Recipe for a pumpkin risotto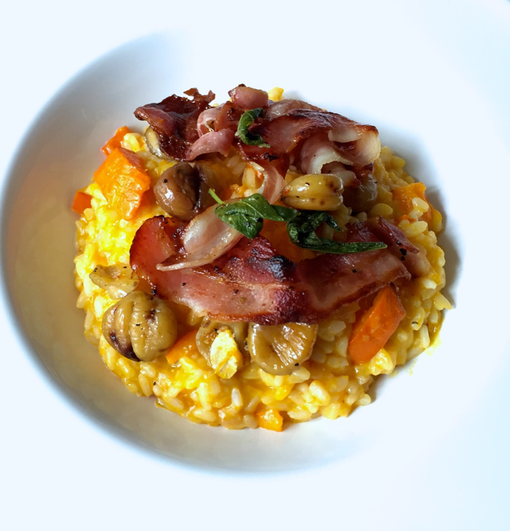 Ingredients (good for 4 people):
For the basic risotto recipe:

1 liter of vegetable stock

400 g risotto rice

1 onion, peeled and finely chopped

1 tbsp olive oil

3 dl white wine

20 g butter

1 handful of freshly grated parmesan

For the risotto addition:

1 medium butternut squash (1 to 1.5 kg)

2 tablespoons of olive oil

12 slices of bacon

100 g cooked chestnuts

1 bunch of fresh sage

sea salt and pepper
Preparation:
Preheat the oven to 190 ° C. Cover the baking sheet with parchment paper.
Wash the butternut squash well, cut in half, and use a spoon to remove all the seeds from the inside.
Cut the pitted pumpkin with a sharp knife into approx. 5 mm thick slices and place on the baking sheet.
Brush the pumpkin slices on both sides with olive oil and sprinkle with freshly ground pepper and salt.
Bake the pumpkin in the middle of the oven for about 30 minutes. This will ensure its even cookedness. 

The risotto is prepared at the same time.
To do this, fry the chopped onion in a tablespoon of olive oil in a large pan on a low level until translucent. Add the risotto rice, turn up the heat and stir until it is translucent. Deglaze with white wine and let it boil down while stirring (it should only simmer gently). Pour in the vegetable stock until the rice is covered and reduce the liquid again over medium heat while stirring.
Repeat the process until the rice is al dente.
Remove the tray and cover the pumpkin slices with the bacon.
Mix the chestnuts in a small bowl with the sage leaves and a little olive oil, salt, and pepper and spread on the bacon. Put the tray in the oven for another 5 to 10 minutes, until the bacon is crispy. Take the tray out of the oven.
Remove the bacon, chestnuts, and sage from the pumpkin and keep all these ingredients warm in the switched-off oven.
Finely chop half of the pumpkin and coarsely chop the other half. Fold under the cooked risotto. Remove the pan from the heat and stir in 2 tablespoons of butter and the parmesan. Carefully season with salt and pepper.
Spread the risotto on preheated plates and decorate with the warm chestnuts, sage leaves, and slices of bacon.

Buon appetito!