Autumn is slowly coming to Liguria, finally the time when you sit comfortably with friends in front of the fire and enjoy a glass of good Barolo. A hearty porcini mushroom risotto, suitable for the season with red wine, rosemary and pancetta, the mildly smoked Italian bacon, which crisps crispy here.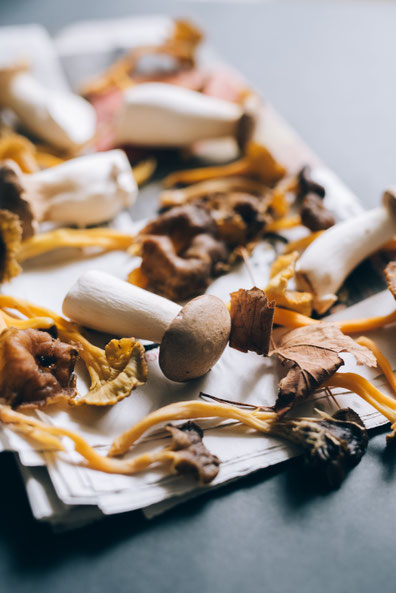 Ingredients for 4 persons:

400g of Carnaroli or Arborio rice
50g dried mushrooms, minced, washed and preserved for 1-2 hours in 200ml cold water
1 medium onion, finely chopped
1 garlic clove, pressed
A small piece of celery, finely chopped
200ml dry red wine
1 L chicken stock of good quality
100gItalian pancetta, diced
1 tbsp fresh rosemary, chopped
30g freshly grated Parmesan
2 tablespoons of mascarpone
20g butter
2 tablespoons good olive oil
Sea salt and freshly ground, black pepper
Preparation:
Bring the chicken stock to a boil and then simmer on a low heat.
Now sauté the onion with the celery in olive oil and simmer for about 4 minutes on a low heat. Add the garlic and let it slowly simmer for another 1-2 minutes. Increase the temperature and fry the rice vigorously for 2 minutes, then deglaze with the red wine. Reduce the liquid to half and then top up with the broth regularly so that the rice is always well covered. Stir regularly to prevent sticking or burning. Add the soaked mushrooms, the soaking water and the rosemary, and simmer on a medium flame until the rice is tender and tender. Remove the risotto from the fire and add the parmesan, mascarpone and butter. Stir and cover everything covered for at least 3 minutes, season with salt and pepper.
In the meantime, bake the pancetta crispy in a little oil and drain on kitchen paper.
Sprinkle the prepared risotto with the crispy bacon and garnish with sprigs of rosemary. This fits a fresh, colorful salad, crispy ciabatta bread and a full-bodied Barolo, but you know that already. Let's enjoy it, 'Buon Appetito', as they say here in Liguria.