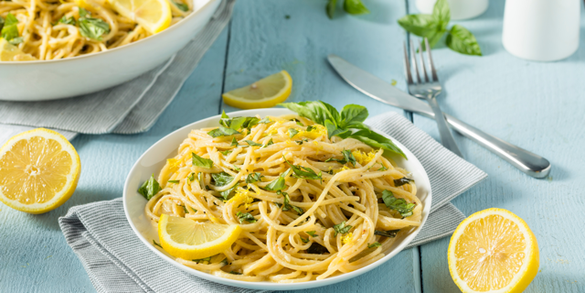 Ingredients:
400g spaghetti
1 grated organic lemon - zest and the juice of half a squeezed lemon 
300g good-quality vegetable or chicken broth
1/2 bunch of parsley finely chopped.
1 tablespoon butter
2 eggs
100g freshly grated Parmigiano Reggiano cheese
Bring a large pot of water to boil with 1 and 1/2 tablespoons of salt and a few drops of oil. Add the spaghetti and cook according to the package instructions until al dente, usually 8-10 minutes.
In a separate saucepan, reduce the broth by 1/3, then add the lemon juice and continue to simmer until it is reduced by about half. Once the spaghetti is cooked, add the lemon zest, butter, and parsley to the hot broth.
In a separate bowl, mix the eggs with the grated cheese and 1-2 tablespoons of the broth.
When the spaghetti is done, drain it briefly, then combine it with the broth and cheese-egg mixture. Immediately plate the spaghetti on pre-warmed dishes, garnish with parsley, and serve right away.
If desired, you can also serve the spaghetti as a side dish to seafood or add sautéed shrimp. However, it is equally delicious served on its own, as one of the most delightful Italian summer dishes.
Buon appetito!