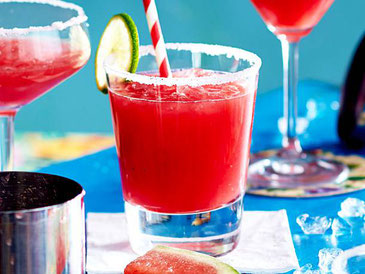 Ingredients (for 4 persons)
Juice of 1 lime + 8 cl juice
15 g salt
1 (approx. 600 g) Watermelon flesh
8 cl Triple Sec
16 cl tequila
4 cl vanilla syrup
Preparation (10 minutes, it is very simple)
For the salt rim, pour the juice of 1 lime and salt separately into two small plates.
Dip the rim of the glass first into the lime juice, then into the salt. Leave to dry.
Remove the seeds from the watermelon, remove the flesh from the skin and cut into large pieces, add 8 cl lime juice and puree finely using a food processor or blender.
Pour the watermelon pulp into a shaker, then fill up with Triple Sec, tequila, and vanilla syrup. Be sure to mix thoroughly.
Pour the watermelon margarita into the glasses and serve.